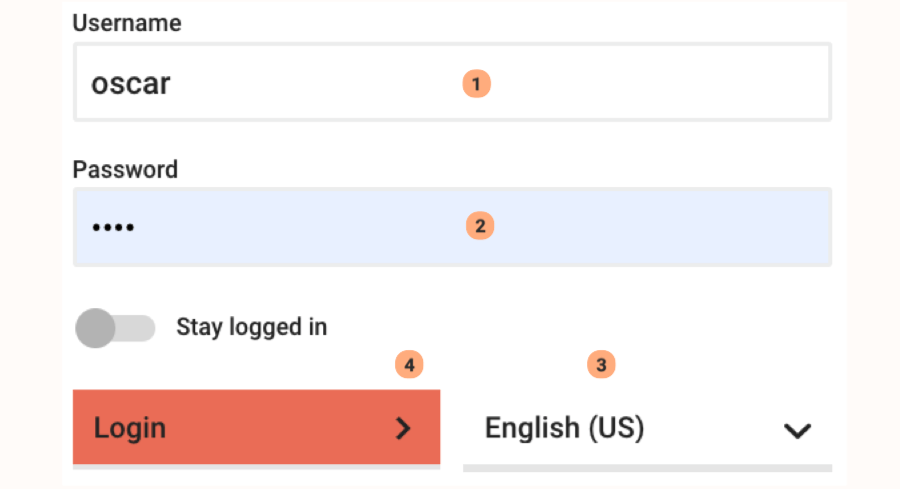 Do you use Earz Solo? First register your account: enter a user name and password of your own choosing + your e-mail address. Then continue at (4)
(1) Enter the username here
• This is 'free', unless otherwise set by the organisation.
• With this name, the user appears (automatically) in the Student Tracking System.
• NB. Preferably do not use an email address as a username!
(2) Enter the organisation password here.
(3) If necessary, choose language.
(4) Click to log in.
You now have to choose a class. If there is only one, choose this one.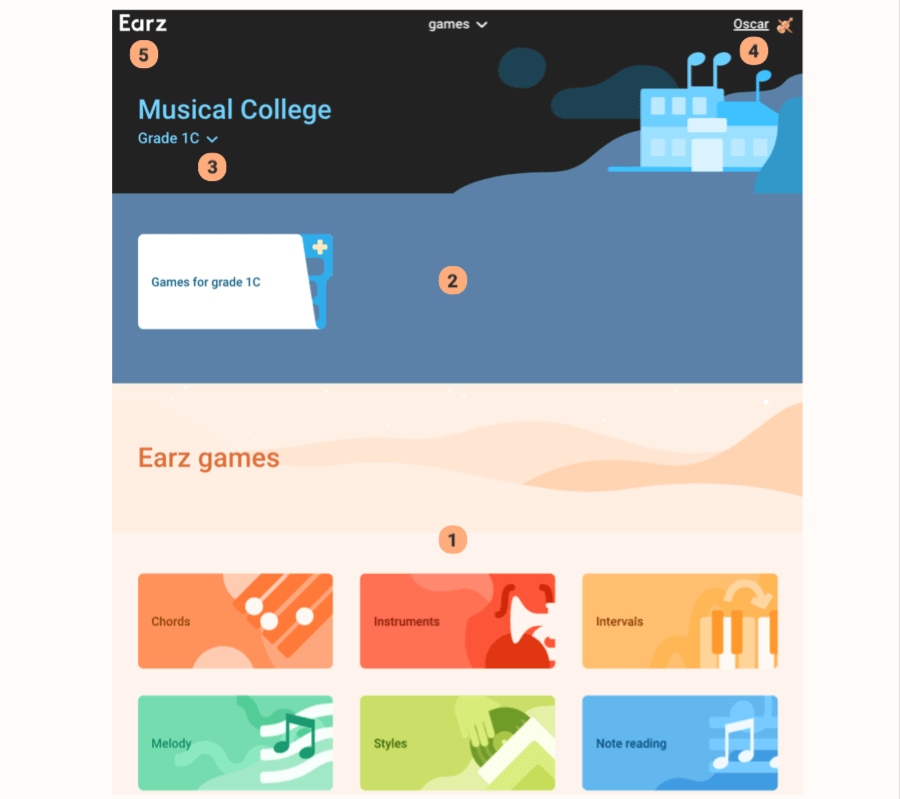 (1) Standard Earz games
(2) Organisation's own games
(3) Click here to switch classes
(4) Click on your name for settings and score
(5) Click on the Earz logo for more info and explanation

(1) Keyboard
(2) Metronome
Play
Choose a game by clicking on it.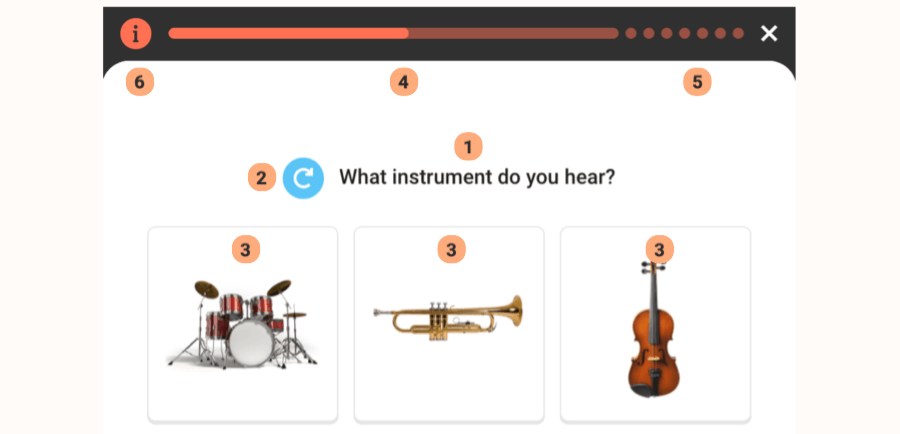 (1) You hear/see a question
(2) Click if necessary to hear again
(3) Click on the correct answer *
* or perform a different action depending on the game
Now you'll see if your answer was right. In case of a wrong answer, you get to see/hear the correct answer.
After this, the app automatically moves on to the next question. (If you want, you can click on the pause symbol in the bottom right corner).
(4) Progress on this level
(5) Levels to go
(6) Explanation and Wiki
Wiki
For Wiki, click on the 'i' at the top left.
In the wiki you will find all the 'material' used in the game and you can listen to it.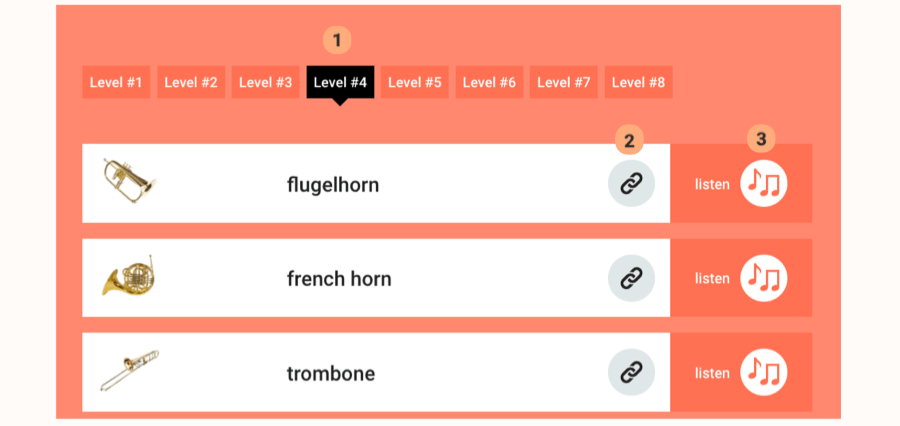 (1) Choose level
(2) Click on Wikipedia for more info.
(3) Click to hear examples
Also see the video.
Scores
For scores, click on your name at the top right.
You can see an overview of your scores and rewards here: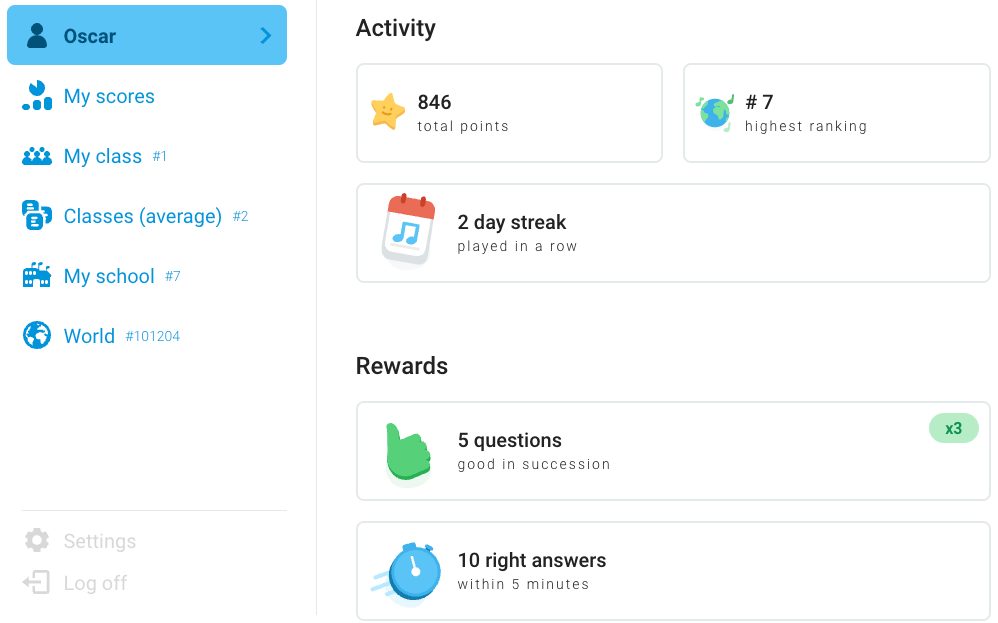 (1) Score overview per game
Click on the name of the game for the scores per level
(2) Ranking of the class
(3) Ranking school by class (average)
(4) Ranking school by player
(5) World high score
6) Go to personal settings of the app
(7) Log out
Settings
Click Settings in the bottom left-hand corner of the Scores window.
• Practice
If you choose to practice, you can:
-play a game without getting any points/scores
-free and endless play on every level
• Language
Choice between Dutch, English (US and EN), German, Spanish and Swedish.
• Instrument
Choose your favourite instrument and the sound and key of (most) games will be adjusted.
• Key
Choice of G, F, Alt and Tenor keys
• Transposition
Choice of: automatically (depending on instrument), or by half note (max 2 octaves) raising or (max 2 octaves) lowering.
• Notation
Choice of 'c-d-e' or 'do-re-mi' notation
• Rhythm; number of taps beforehand
In case of repetition standard 2 taps before yes/no
• Highscore
Visible in public (in the app's highscore) yes/no
• Delete account
Please note that this permanently deletes all your data. This cannot be restored!!!
Video
Select English in the settings at the bottom right.